Advertising agency located in Brabant.
fffunction studio - Eindhoven, Brabant
fffunction is a strategy-driven advertising agency, proudly based in Eindhoven, Brabant. We build brands that work for people and businesses.
Your brand is more than just a logo, visual identity, website, or business card. Your brand is what your audience thinks, feels, and experiences at your company. Through online and offline contact, people create an image of your brand. Branding is therefore about creating a customer experience and that is exactly what we are good at.
Branding makes your service and product recognizable and distinctive. It makes you relevant to your target audience. By building 'brands that work' we mean that your brand should contribute to achieving your business goals. Our process is therefore aimed at ensuring that your brand will work as a catalyst for success.
Billboard for Topcast Media
Form follows function
Your brand positioning and design should contribute to your business goals and the people involved. Our design method is created for that; design from the content, functional for your organization.
With a wealth of experience and creative capacity, we help organizations at home and abroad to build brands that work. What your target audience will love and grow your business.
Planning to launch a new brand or is the current one not doing what you want? Advertising agency fffunction from Eindhoven builds brands that work. Function is our goal, form is our medium.

Brand Strategy
A solid plan is the first step in accelerating growth. We ask questions, research the market and determine a strategic position. In this way, we capture the essence of your company and lay the foundation for a recognizable and distinctive brand. Ready to grow.

Brand Identity
To fully utilize your potential, we create a brand identity that people can identify with and want to connect with. A good brand identity is simple, concise, and carries your communication further. We determine how your brand looks, speaks, feels, and moves. With the aim that your brand expressions do more than the sum of their parts.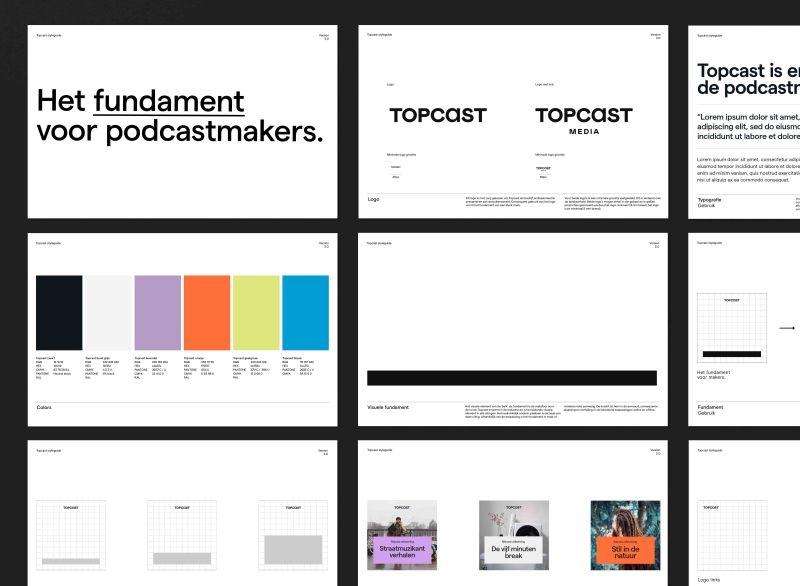 Style guide for Topcast Media
Do you want a brand that works for you and your organization?